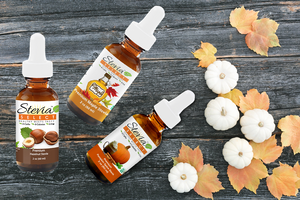 FALL FLAVORS TO WARM THE SOUL
Welcome To Naturally Delicious Stevia
Ingredients You Can Trust
FREE RECIPE E-BOOK
22 Scrumptious Desserts
We created these fast & simple recipes to satisfy those sweet cravings in a hurry. Nothing takes over 15 minutes to make.
You'll also get our helpful conversion chart to modify your favorite desserts into sugar-free delights.
Instant download....start enjoying your stevia goodies right away!
Let's Start Baking
Discover a trusted brand of stevia products guaranteed to meet your highest expectations. Never settle for anything less! 
We are most recognized for our great-tasting 100% pure organic stevia made without fillers or additives.
"This Brand is for people who won't compromise delicious flavor & value clean wholesome ingredients."
SHOP STEVIA SELECT
CLEAN TASTE
PURE STEVIA
Enjoy the clean delicious taste of premium stevia. No fillers or additives of any kind!
SHOP PURE STEVIA
People are talking about Stevia Select
This is the best stevia I have used to date. It is clean, with no aftertaste. It blends well in food, beverages (both hot and cold) and the company is invested in producing a high quality product. Look no further, Stevia Select is top-notch.

Kerra .....Pure Stevia ⭐⭐⭐⭐⭐
I've been using your Stevia Drops for quite some time now. I create my own version of a Carmel Miacchiato every morning for breakfast and use these drops to do so. The taste is great with no bad after taste, like artificial flavors.

Sue ..... Caramel Stevia ⭐⭐⭐⭐⭐
This product will save you money, keep you healthier than using sugar or blue packets or yellow packets.
Give this seller your business as you will not regret it. Then tell ALL your friends to buy from here.

Richard .....Pure Stevia ⭐⭐⭐⭐⭐
discover stevia FLAVORS
Superior Taste
As a trusted brand of stevia for over a decade, we take pride in  our top rated products. We will never sacrifice quality or cut corners when it comes to delivering the best tasting stevia.
LEARN MORE
Growing Stevia - Digging Deeper
From Seed To Table
Learn more about Stevia Select growing conditions from the first seeds planted, to harvest and bottling. Discover how we extract our highly rated stevia and so much more..
USDA ORGANIC STEVIA SELECT
together we are making a difference
GIVING BACK
Our family believes in giving back to our community. This is why we give 1% of every sale back to charity and relief organizations. Together we are making the world a better place. Thank you for making a difference!
SHOP STEVIA SELECT